In 2018 couples are committing to vibes versus theme, exploring experiential dining options, and of course – doughnut walls! They are obsessing over how to make every aspect of their wedding all about them. When it comes to venue, flowers, and catering, couples are amplifying their choices with these new 2018 trends.  
Unique Experiential Dining Experiences
In a society of serious "foodies", couples are choosing to skip the 3-course meal and are moving toward experiential dining experiences and doughnut walls. Food brings people together and your guests will be excited to share a meal that reflects your style. Couples are inquiring about unique experiential dining experiences such as open chef cuisine. Guests can watch their meal be prepared right before their eyes. Ask your caterer about a more hands-on approach.
Doughnut walls & dessert bars have been a hot idea for weddings – and they aren't going anywhere in 2018. The sweetest treat for your guests is to have variety! Celebrations are a time to indulge, they'll have no problem picking up a few doughnuts and macaroons.
Moody Bouquets & Hanging Floral Arrangements
Photo by: Kristina Curtis Photography
Last year was all about light greenery but we can expect this year to be darker and moodier. Palettes will be all about the purples! How convenient considering Pantone chose Purple as the color of the year. Expect flutters of lavender upon darker greenery.
Hanging Floral Arrangements can convey a romantic and whimsical feel. This is a way to really impress your guests. They pair nicely with vase bouquets or use them as a statement piece with light greenery.
Rose All Day – in Your Blush Wedding Dress
The days are gone where brides only had two options to choose from – white or ivory. Champagne and blush tones are going to hit 2018 worn by the most fashion forward brides. Looking for ways to be unique on your wedding day can be difficult, but colored gowns can make a statement and allow a bride to express themselves.
While traditional veils are still important to some brides, others are looking for more stylish ways to cover their head and shoulders. Capelets come in all different types and styles. Shoulder length, elbow length, even floor length capes! How can a girl go wrong?  
Rustic? Translation – "Woodsy" & Industrial Metallic Decor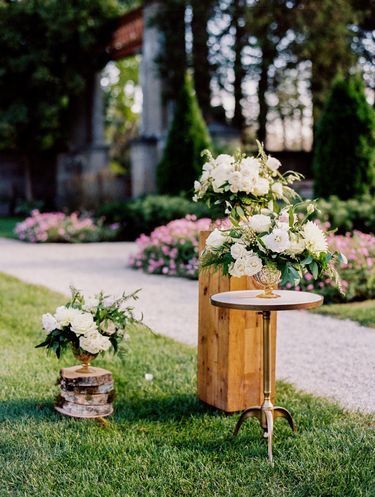 Photo by: Olivia Leigh Photographie
In 2017, brides were drawn to the rustic theme, and while rustic is here to stay – more brides are leaning towards woodsy features instead of classic rustic accents. Incorporating wood whether its wine barrels or features on your dessert table add some beautiful florals to go along with it. The moody deep purples and red will complement the vibe of the wedding perfectly.
Metallic wedding décor is a contemporary touch to couple's wedding décor. These metallic accents will shine as bright as the diamond ring on your finger! For a minimalistic bride, adding a pop of metallic here and there will add the right amount of dazzle without overdoing it. Adding a little bit of shimmer never hurt anyone.
Going Back Indoors & Destination Weddings
Photo by: Therese Winberg Photography
Destination weddings are going to be explored more by more couples in 2018. There are a few reasons why couples choose to have destination weddings: affordability, simplicity, and relaxation. If you're in the midst of wedding planning, what sounds better than making a few decisions and the rest is done for you?
2017 was definitely the year for outdoor weddings but in 2018 couples are seeking venues that offer inside space with a twist. Open, blank spaces are intriguing because couples can completely customize their venue. Industrial spaces & warehouses are going to be hot this year.
Now that we've got your head spinning with a ton of great ideas for your 2018 wedding – connect with us today to learn more about our full-service wedding catering and event center. Randy Peters Catering & Event Center has been voted Sacramento's #1 wedding caterer in 2016 & 2017 and we are here to exceed your expectations. We want to help make your wedding day unforgettable.
Photos by: Kristina Curtis Photography, Olivia Leigh Photographie, Tara Marie Photography, Therese Winberg Photography